Acetaia Ambrosia, the Traditional Balsamic Vinegar of Modena D.O.P.
Refined and Extravecchio, prepared according to the Tradition
"Ambrosia Balsamico" is situated in Modena, that is the main producer and the home of balsamic vinegar DOP (protected denomination of origin). Our "Acetaia" has built up its own traditional way of production handed down from generation to generation since the 16th century.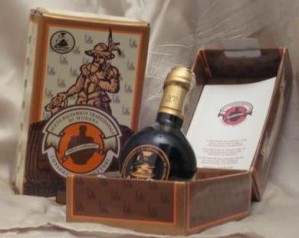 The vinegar is produced through home made techniques that draws out flavours of cooked and uncooked dishes, from the most elaborate to the most simple one.
It could be used in a refined cuisine and also in a daily meal.
Our "Aceto Balsamico Tradizionale di Modena" Extravecchio and Affinato is characterized by its shiny dark brown color, syrupy and appreciable density leaving a tipiccally intense and pervasive scent. It is also defined by its palatable and harmonic acidity as well as well equilibrated sweet and sour taste.

Also the organoleptic characteristics, quality of raw materials and care of production are guaranted by the Consortium of Manufactures.
Tuesday, 12 January 2016

Start the collection of samples of Balsamic Vinegar to attend the 10th Palio della Ghirlandina organized by AED (Association of Expert Tasters). Each sample…